PCI-Z is a freeware lightweight system utility designed to provide information about (unknown) PCI (PCI-E, PCI-X...) devices and helps you find appropriate device drivers.
PCI-Z is designed for detecting unknown hardware on your Windows based PC. It will help you determine vendor, device and certain details about device even if you don't have drivers installed. Software uses The PCI ID Repository, a public repository of all known ID's used in PCI devices: ID's of vendors, devices, subsystems and device classes. It is used in various programs (e.g. The PCI Utilities) to display full human-readable names instead of cryptic numeric codes. It is almost similar to lspci Linux command but with full Windows support.
You can find drivers for your operating system without a problem! Find drivers for your WiFi cards, audio cards, network cards or any other PCI peripheral.
PCI-Z is compatible and works on: Windows 2000 (SP4 minumum) Windows XP Windows Vista Windows 7 Windows 8 Windows 10 Windows Server 2000 Windows Server 2003 Windows Server 2008 Windows Server 2012 Windows PE Windows Neptune Bart PE/Reatogo ReactOS
Both 32 bit (x86) and 64 bit (x64) Windows versions are fully supported, where applicable. Both i386 and amd64 kernels of Windows PE are supported as well. PCI-Z also works on Bart PE/Reatogo, "live CD" of Windows XP. In addition, you can run PCI-Z on ReactOS in full functionality. ReactOS is a free open source operating system based on the best design principles found in the Windows NT architecture - providing completely and in all ways legal and free platform for running PCI-Z without any Windows licenses necessary. Software will NOT run on Windows 95, 98 or ME.
It does not require any library but default Windows ones. No Visual Studio C++ redistributed, no .NET platform, no Java. Windows components such as WMI (Windows Management Instrumentation) are also not required.
From January 2015 PCI-Z is digitally signed for your protection (version 1.3). New version 1.4 will also have digital signature.
There is no installation or configuration! Simply run the file and wait until you get the report. Afterwards, right click on the line to get options (copy all data or just a segment) or export the whole list.
The author of CPU-Z has granted me permission to use a name similar to his product. Thanks Franck!
Key features
detects all PCI/PCI-X/PCI-E cards, even if your device manager doesn't recognizes them
one file only needed for running - 100% portable, no installation needed, no Internet connection needed
"lspci for Windows" - familiar lspci-like tool from Linux in both GUI and CLI form on Windows
helps you find drivers for your PCI devices on Windows
reports devices with drivers issues
daily updates with PCI ID database
small size, small memory footprint
spyware/malware free - VirusTotal report and Malwr for x86 version, VirusTotal report and Malwr for x64 version
How to use
Although PCI-Z is very simple to use, there are some considerations to be taken into account.
PCI-Z has embedded PCI ID database for redundancy and ability to work in the strict and closed environments. However, there are several options to load (not necessarily, but usually) newer PCI ID databases. When starting, PCI-Z checks current folder for 'pci.ids' of newer date. If there is newer PCI ID database in current folder, PCI-Z will automatically use it instead of embedded one.
PCI-Z has the ability to take screenshot of itself by clicking on "File" -> "Screenshot". Screenshot will be taken as 24 bit PNG.
By right clicking on listed device, there is an option for drivers search - "Search for drivers". That option will run a simple Google query in your default Internet browser with vendor name and your operating system version. This does not guarantee that you will find your driver, nor am I responsible for any potential damage!
Option for checking whether there is new version of the PCI ID repository and automatic download and usage is available through "Database" -> "Check for update" menu. Do note that PCI-Z will override any 'pci.ids' file currently in your folder if you choose to download newer version. You can also check if there is new version of PCI-Z, however, you will have to manually download it from this site.
You can send your PCI-Z reports to e-mail from the application. That requires 3rd party SMTP server that has no authentication or security such as SSL/TSL.
Since version 1.2, PCI-Z has embedded both CLI and GUI versions of PCI-Z in one file. That will result in loading both GUI and "blank" console (CLI) window once you start PCI-Z. Except for the visual effect (console window should generally disappear momentarily) that all users are not accustomed to, GUI functionalities of PCI-Z have remained the same.
PCI-Z has command line options for advanced users. Details about those can be accessed by running PCI-Z from console (CLI) with '/?' switch/parameter.
Screenshots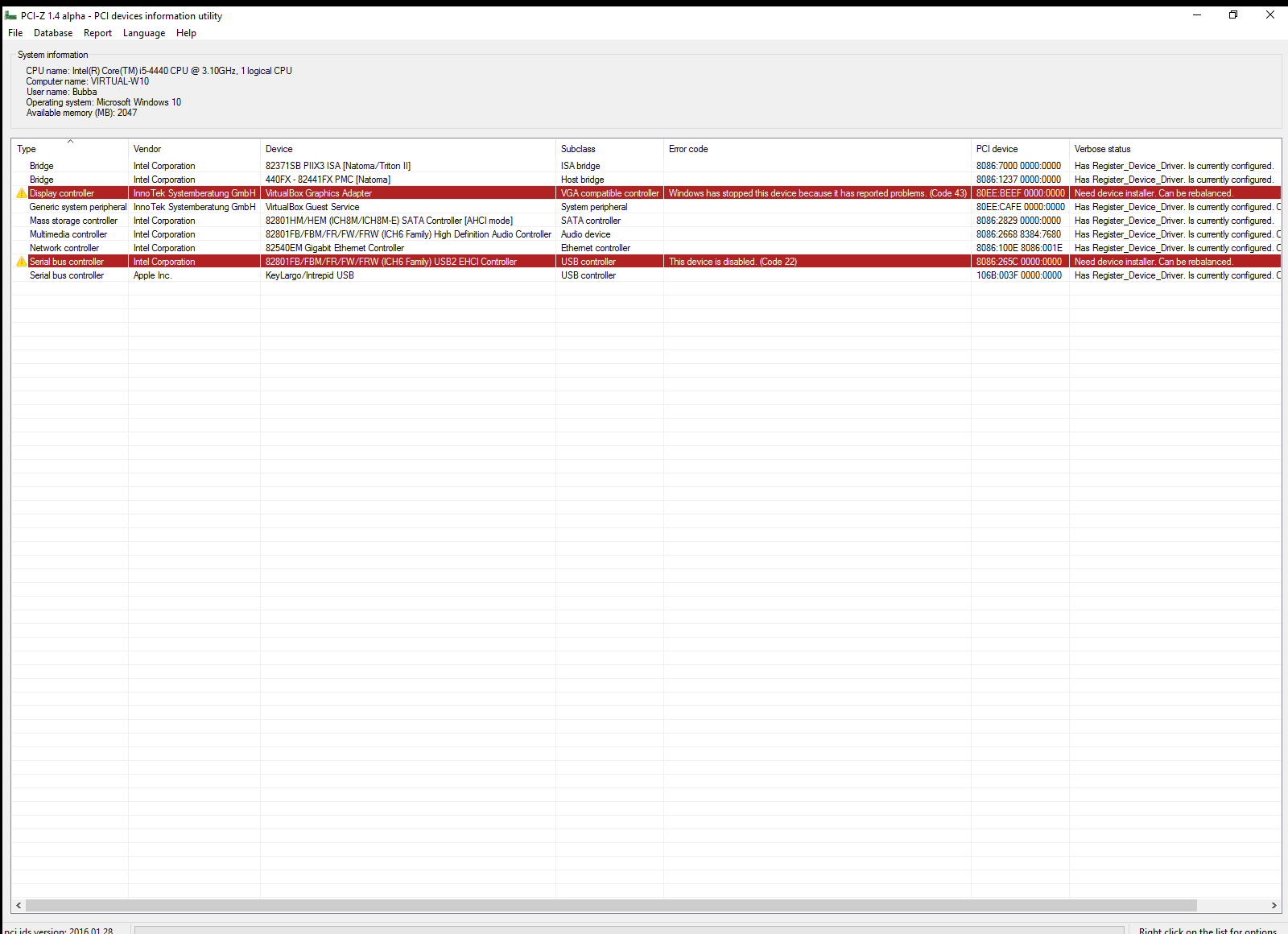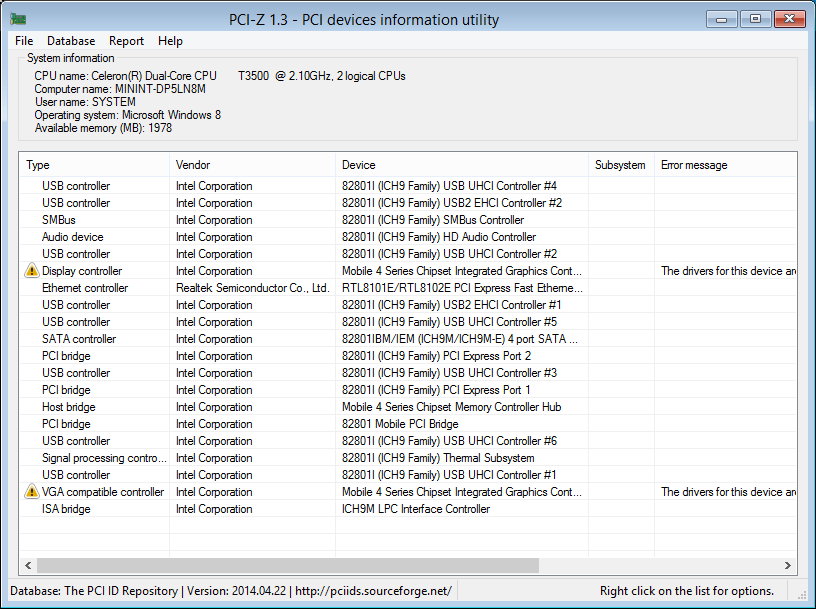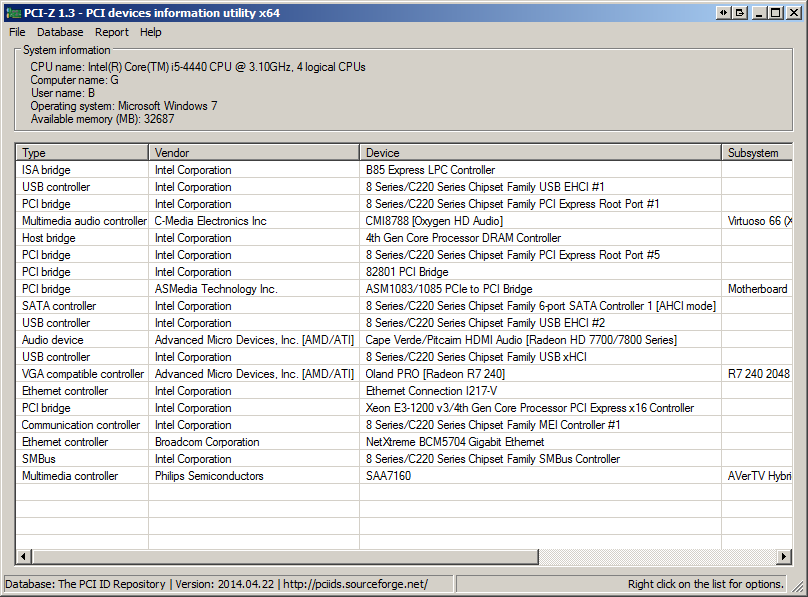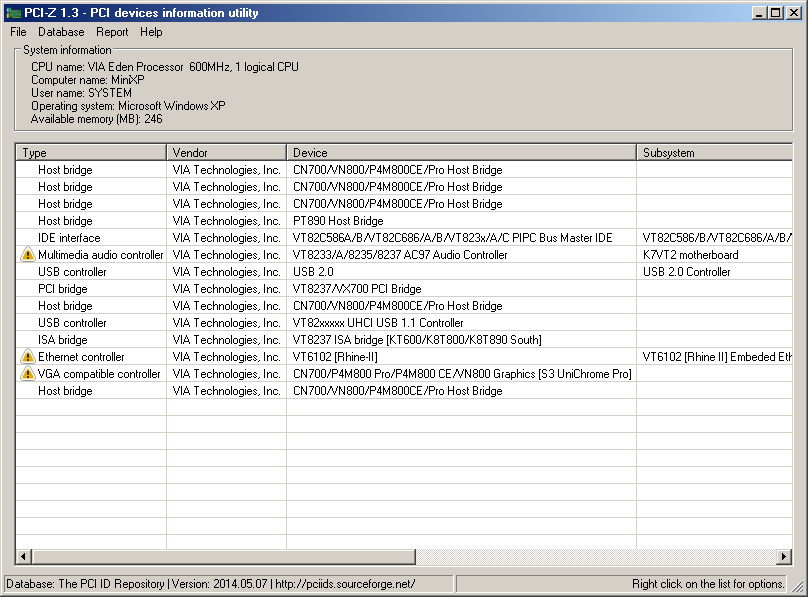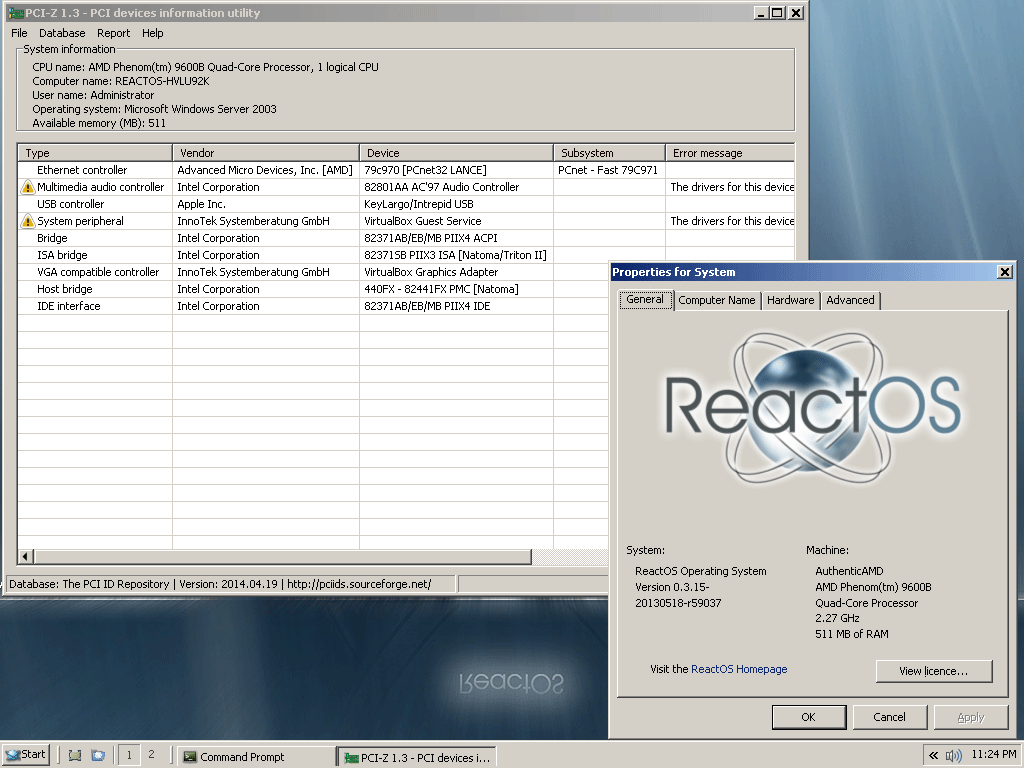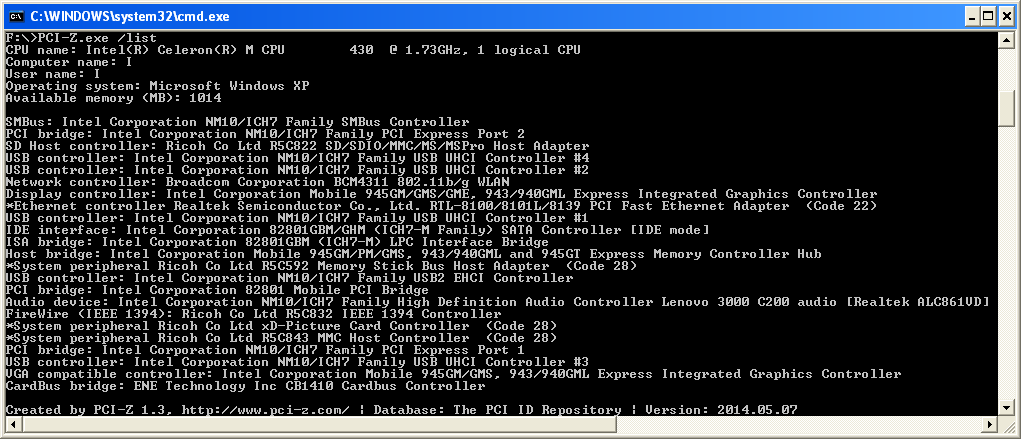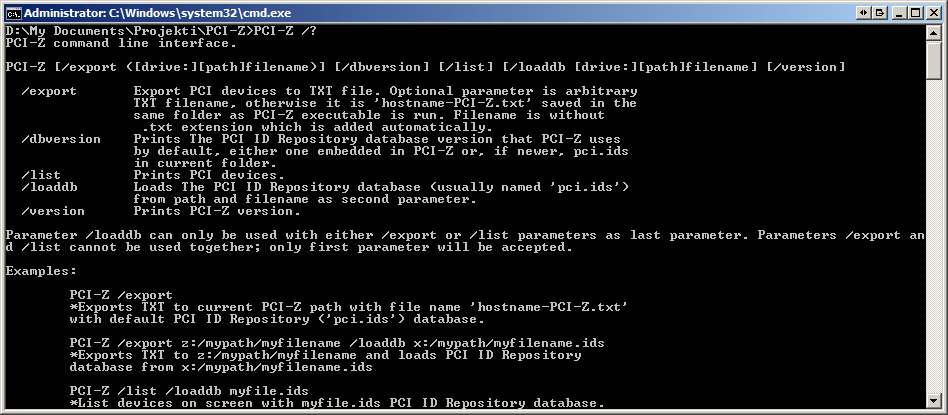 Download
PCI-Z 1.4 alpha
You can test PCI-Z 1.4 alpha version and download it from
here
. You can review updated
license
as well.
Bug fix

Fixed bug with not recognizing multiple identical devices, improved resize routines, fixed bug when CLI window not hidden under special circumstances (run from special network paths)

Improvement

Performance improvements, fully multithreaded, Unicode, translation supported, full Windows 10 support including icons, secure (SSL) communication with both PCI-Z server for updates and PCI ID repository server for database updates, verbose PCI details, additional visual features in list

New features

TBA

Major change

Windows 2000 require GDI+ redistributed, which makes minimum OS support version Windows 2000 SP4
All regular users can use "normal" (x86) version of PCI-Z. For users that are using Windows PE or any other Windows version supporting exclusively amd64 kernel, you can use x64 version. Both versions have exactly the same functionalities!
I recommend downloading ZIP files since they contain latest PCI ID database in archive. You can always, however, download executive file only and get latest database later on.
Please report all bugs and comments to bubba (at) pci - z (dot) com
Software is free for both commercial and non commercial usage.